Home Page | Introduction | Mission | Research & Achievements | News | About POFF
Research and Achievements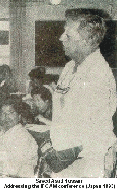 A feasibility study of our demonstration farm was prepared by UNDP/FAO project PAK/80/019 in May 1984. Our paper "High External Input System Vs. Low Input External System" was circulated in all over the U.S.A.
A Council of Agriculture Science and Technology an advisor of U.S. Govt. has published in its 30th anniversary number. Our Association was given the singular honour to be quoted on its page twelve in the year 1997. Our research paper " High External Input System vs. Low Input External System" was also circulated all over the U.S.A. and we have been informed that more than twelve hundred copies were distributed from the CAST office.
Japan Organic Farmers Association constituted a team to find resources of all farms of organic in Asia. As a result of which a book entitled "Organic Agriculture in Asia" was published in the year 1993 in which our Organic Farming System comprise of 24 pages and against India 7 pages and so on with it other countries of Asia. President of POFA (Sayed Asad Hussain) was elected leader of all Asia delegates attending IFOAM Asia Conference 1993.
In the year 1997 IFOAM Asia Conference held in Banglore (India) our paper based on research "low input system vs. high input system" despite very hostile behavior of delegates of the host country. The entire foreign delegates and the President of IFOAM world and other delegates paid highest tributes to our efforts in promoting organic agriculture.
In the year 1997, President POFA (Sayed Asad Hussain) was invited by Thai Govt. to give his views on organic farming system.

IFOAM Asia Conference 1999 was held in Tagatay City (Philippines) from 17th to 21st of November 1999, where a research paper was read by Sayed Asad Hussain (President POFA) titled "Economic Sustainability on Alkaline Lands" based on farms scientific experiments. All the world scientists were agreed with our research and appreciated our efforts. On the Election Day Japan proposed the name of only soul Pakistani delegate to be the Chairman of Asian Farmers Group. Taiwan and Sri Lanka were seconded. Pakistan was elected as Chairman of farmers group in Asia unopposed. India was represented 19th Govt. sponsored delegates. But they could not appose our nominee.

Now recently the Sekam (Egypt) a cooperation network of organic farmers of Egypt invited President POFA (Sayed Asad Hussain) for advice on reclamation of saline and sodic lands. The Sekam (Egypt) organized our lecture as a part of its research-based activities on organic agriculture.

Home Page | Introduction | Mission | Research & Achievements | News | About POFF